Sure, I am about sunsets on Sunday, but in every month with five Sundays I usually look to change it up with a sunrise, a "sunrise Sunday" if you will. And after meeting this mother-daughter team from the Global Sunrise Project earlier this year at the 2015 New York Travel Festival, I knew I'd love to showcase not just one of their sunrise moments and photographs, but also showcase the simple, yet powerful reminder of showing up and allowing your dreams to come true. The universe is an amazing place, and this project will certainly remind you of it. 
Showing Up at Sunrise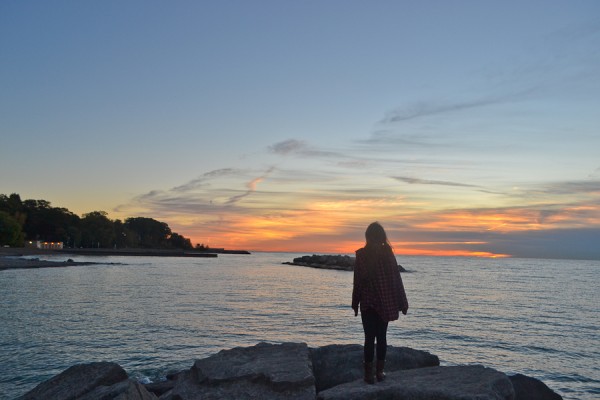 I remember the day we went out to shoot this picture for Kasha's first Indiegogo campaign (fundraising) for The Global Sunrise Project, not knowing if we'd actually be able to pull off this huge dream and journey or not. We set our intentions that Saturday morning many hours before most teenagers would be opening their eyelids.
I remember watching Kasha wake up without a fuss. As she faced the sunrise I was overcome with emotion – awestruck with pride that she had the courage and was prepared to show up. That's when it 'dawned' on me that maybe this is all the universe wants from each of us as well, it wants us to just show up and be ready.
Too often we forget to take the sun in our soul. This particular day – we embraced it fully and walked into our future, trusting that as long as we continued to show up, we were on the right path. This picture has since become the cover for her photography book – Reflections of The Sunrise Storyteller(c)
–Marla Slavner
Marla (the mother) is a writer, media/sponsorship consultant, social entrepreneur, social justice advocate, trained peace-building facilitator, speaks five languages, and even a part-time comedian. She supports Kasha's vision for The Global Sunrise Project © as an educational opportunity to explore the world in way that promotes a deeper understanding of and compassionate connection with it.
Kasha (the daughter) is a passionate 17 year old photographer/ filmmaker, blogger & social entrepreneur. She is a contributor to National Geographic Learning, Matador Network, as well as several other publications. Kasha's plans, already underway, for The Global Sunrise Project  include a documentary film The Sunrise Storyteller© (expected March 2016) a traveling exhibition & talks about of her photography Travels into the Heart ©, a photography book Reflections of the Sunrise Storyteller© (mid December) about her travels abroad.
You can search for the book on Amazon in mid December in time for the holidays (the book has launched – see here ) and follow the project on twitter @GlobaSunRisers for more details or visit their website – Global Sunrise Project