When driving through Mexico City (as a passenger of course), I couldn't tell where the official federal district ended and the official state of Mexico began. But I do know I visited friends who lived in the state of Mexico (not the city) and enjoyed viewing a Sunday soccer (football) match in their home. It was a a cultural experience I will always cherish.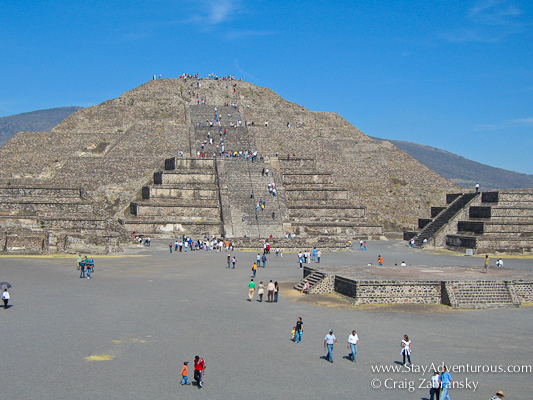 The State of Mexico felt the same as the city, but what didn't feel the same – a visit to the Pyramids of Teotihuacan. A place left unpopulated by the Aztecs, known to them as the place man become gods, was not only a mystery to the Aztecs who called the State of Mexico home over 500 years ago, but still today to us who visit.
Best Mexico Travel Tips
When traveling to Mexico, Teōtīhuacān is the perfect day trip from Mexico City. Yes, you will step foot in the state of Mexico (check), but more importantly you will visit (and can climb to the top) two pyramids and visit ancient ruins.   A visit these famous and mysterious Mexican monuments, is a must do when visiting Mexico City and that is why it makes the first StayAdvenTours to Mexico City itinerary on April 30th – May 3rd. (Details released March 10th). 
 Mexico Location: Is there a State of Mexico?
Mexico is a state, yes. The name Mexico is used for a state, a country and a name of a city. The Estado de Mexico (Edomex) is the most populous and essentially surrounds the city, the Federal District, Mexico City (Ciudad de Mexico).  It borders many states in each direction and is essentially the center (and heart) of the country.
Stay adventurous, Craig
This post is part of the Mexican March Madness 2015, a look at the 31 United States of Mexico in the 31 days of March. Don't miss a state, sign up for email updates > here.