For January, I can complain about the chilly near zero temperatures or the seemingly constant snow shoveling, but I chose to spend most of the month in the Pocono Mountains of Pennsylvania. I chose to experience winter and actually, I enjoyed it.
I watched deer search for food through the snow outside the window, experienced the stillness and silence of winter on walks to (and across)  frozen lakes, and even felt the joy of childhood sledding down a small hill. I often followed all such winter activities with a hot chocolate (a gift from my travel through Oaxaca) loaded with extra whipped cream by the fireplace. Yes, winter can be fun.
During my time, I also noticed brilliant, almost piercing sunsets this season. Actually, just yesterday when driving I needed to stop in the local gas station market and purchase a pair of sunglasses to be able to navigate the roads with more confidence. The sun's rays were just too bright.
Pocono Mountain Sunsets
The Sunset Sunday series is no stranger to Pocono Mountain sunsets, yet I still wanted to add another. In the past I captured a winter sunset from the Poconos and even put another local Beaver Lake sunset in the 2014 Sunset Sunday Calendar, so this time I wanted to add a different view, a different take. I wanted to explore the definition of what is a sunset and even our mindset on what makes a beautiful sunset.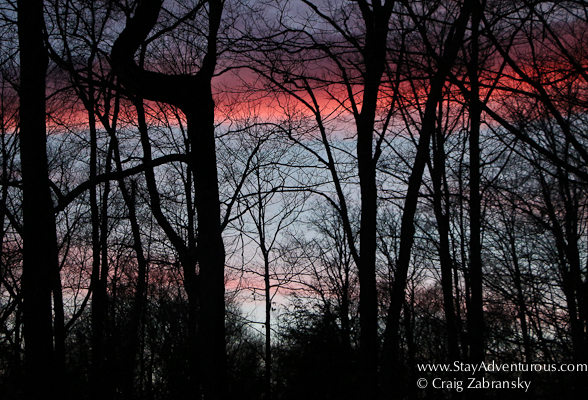 One evening with my hiking boots filled with snow and the cool crisp air on my face, I noticed the pinkish hues beyond the leaf-less trees in the clouds. The day was ending soon. And although I couldn't see the sun, I did take a moment to experience and enjoy the majesty of the sunset that afternoon. Happy Sunset Sunday.
Unexpected Magic at Sunset
The image was selected for the 2016 Sunset Calendar.
We don't offer consider winter for sunsets, but through the years some of the most magical moments have been set in a winter wonderland. This is certainly no exception. Whether walking the woods, or just looking out the window, sometimes we see the unexpected.
To order your copy of the 2016 Sunset Sunday Calendar > click the Lulu icon below

Stay Adventurous, Craig