When I say "Dublin" I am guessing the first word that comes to mind is not "sunset." I am not surprised, but I imagine a few people might think of the word "love." Whether it is a love for the city, love for the Irish or just love for a pint of Guinness; love is a word that comes to mind for certain.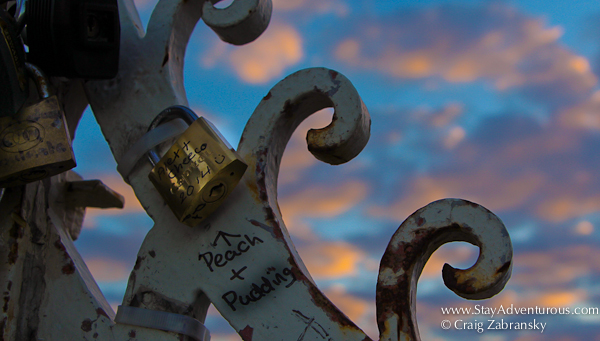 My recent trip to Dublin, reminded me both why I love the city (and also why I love being Irish), but it also enabled me to lock in lock in my love for the sunset. One afternoon turned early evening after a few pints and some live music, I ventured out to walk about the city.  I felt an overwhelming feeling of love about life and then just prior to sunset I crossed the Liffey River in the Ha'Penny Bridge.
The Love Locks of Ha'Penny Bridge
The Liffey Bridge nicknamed Ha'Penny Bridge because of its original half penny toll, was recently renovated and today no longer charges its citizens or visitors to cross. Today, one of the more popular activities on the bridge attaching a pad-lock or a love lock. Names are often written or engraved onto a lock and the lock itself is locked to the bridge. In a tradition gaining popularity globally with origins from a World War I Serbian love affair, these love locks or love padlocks are meant to symbolize an unbreakable love.
However, although it is meant to be permanent, at times all the padlocks have been removed from the bridges, including Ha'Penny Bridge as municipalities cite damage, aesthetic concerns, and even structural related issues. And although today even with signage aimed to deter people at Ha'Penny Bridge, love locks still find there way on the bridge. I guess love conquers all.
Happy Sunset Sunday
Sunset Mindset
I added the Dublin Sunset to the 2015 Sunset Sunday Calendar to remind us to LOVE every and all sunsets. It is a special moment every day, and we may not need to use a padlock to symbolize our love for anyone or anything, it can serve as a great reminder and enable a better mindset.
Order the 2015 Sunset Calendar here
Stay Adventurous, Craig