Maria returns for another Sunset Sunday guest post from Texas… 
Interstate Highway 40 runs 2,554 miles from Barstow, California, through the Mojave Desert, into Texas, over the Great Smoky Mountains and onward to its final destination, the historic coastal town of Wilmington, North Carolina.
I-40 also parallels, and at points overlays, the historic US Route 66.  One such section is just west of Amarillo, Texas where it cuts through acres-upon-acres of cow pastures, wheat fields and… the Cadillac Ranch.
Since 1974 these cars have been an incredible art installation on the immense expanse that is the Texas prairie.  There's really little else that compares, especially in the way of public art.  Stop and check it out, not just for the amazing range of colors, or to read who loves whom, but to study the rise and fall of the tail-fin.
Property owners have never discouraged the public from walking this area of their land, nor have they attempted to discourage tagging or graffiti – it's all part of the art and part of the engagement with the cars.
I drove from Austin to Amarillo in one day with the single goal of reaching the Cadillac Ranch before sunset so I could get a few photographs of this amazing, iconic work in naturally dramatic lighting.
I think I did a pretty good job.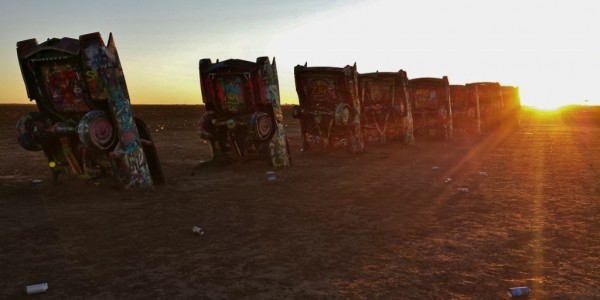 -Maria Falvey
Maria is the Founder/Editor of, Maria Falvey… Often in an Accelerated Stall – it's neither your usual travel blog, nor standard short story anthology- not by any means.  Taking on a unique and quirky view, Maria encapsulates events and observances from her experiences (abroad and in the 'backyard') into literary snapshots.  Don't blink, you might miss it!
Happy Sunset Sunday.  Stay adventurous, Craig
Wonderful video on the History of Cadillac Ranch.