After a visit to Sentosa I would have bet the translation of the word into English was "sensation."  Singapore's amusement resort, created for all ages, provides stimulation at every turn. Ironically it translates to "peace and harmony," but I guess a certain tranquility exists in all places where the land meets the sea.
The original plan, visit one of the world's largest aquariums, was a great start to the day. The S.E.A Aquarium is impressive. After a few hours inside I needed a break from the crowds and sensations.  Sentosa is essentially a Disney World inclusive of all the theme parks just minus Mickey and Friends. Then, I noticed there was a beach. I never considered beaches in Singapore – I always thought it was a city-state, a modern day megalopolis.
 Siloso Beach at Sentosa
The created beach was a great effort, but it offered views of the shipping industry in the distance and few locals actually waded into the water (I only noticed expats taking the plunge). Most visitors packed their own "supplies" and blankets although cafes and bars were plentiful. I ordered a drink, but just one because as I learned at the Raffles Bar drinks are expensive in Singapore. I didn't stay long.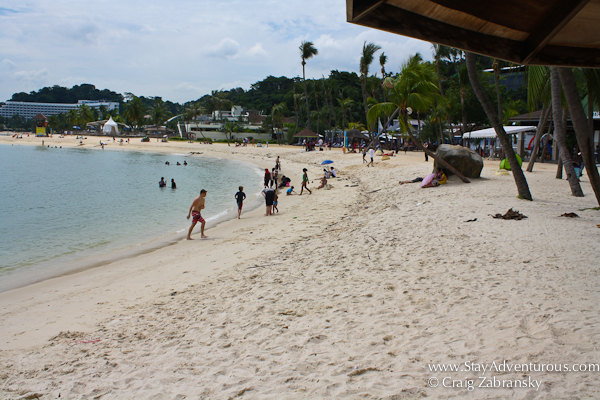 How to get to Siloso Beach?
Well, once you are in Singapore, public transportation is abundant with bus routes and tourist buses. Any hotel, resort or hostel will tell you how to arrive if you ask. Also, Sentosa explains all the ways and transportation once you arrive at the resort world via there site > here.
 Why go to Sentosa's Beach?
Sentosa offers many reasons to visit, including the S.E.A Aquarium, but should you visit the  beach too? Well, if you are living in Singapore or staying there for an extended time, it is a chance to go to the beach without leaving the country. Sometimes you just need a little beach (we all could use it now in winter).
Besides that, if I were traveling to southeast Asia, I'd recommend the beaches of its neighbors; Thailand (Kata Beach), Indonesia (Gili Islands) and Malaysia (Langkawi).
Stay adventurous, Craig