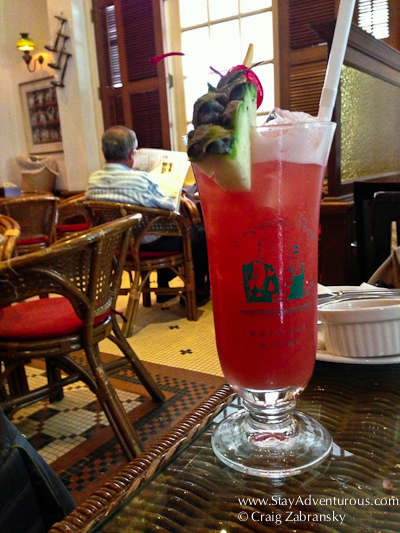 A must do tourist event in Singapore is to taste its "official" drink, the Singapore Sling. Although they go down easy, I decided to sip mine slowly and savor the moment.  Inside the Raffles Hotel Bar, the place the cocktail was first served, you'll see many tourists ordering the drink alongside you. On my visit, I could have sat down and had a few, but I didn't. Like most, it was a one-and-done, check the box type of event – here's why.
Singapore is a Foodie Town
When you travel to Singapore, people will give you a list of foods to try that include chili crab, roti prata, laksa and more; they will tell you to eat in fancy restaurants, shopping malls, hotel buffets and food stalls.  They will recommend Indian, Chinese, Malay, and Peranakan (perhaps the first Asian fusion when Chinese immigrants settled in Malaysia).  You'll never eat it all, but you'll love trying. Singapore is a pure foodie paradise, a place to discover and explore Asian cuisine, and at the Raffles Hotel Long Bar, the food is not the draw.
Alcohol is Expensive in Singapore
Very Expensive. Actually, food can be relatively inexpensive, but alcohol is heavily taxed (since the government deems it bad for you) so it is pricey. I am talking sticker price shock expensive. Yes, even the $17 New York City Martini will seem a bargain after a night out drinking in Singapore.
The Singapore Sling at Raffles Hotel Bar cost close to $30 and even though it comes with all-you-can-eat peanuts (where you can throw the shells on the floor and make a mess, something deemed edgy in Singapore), it is a heavy price for a cocktail and can deter ordering a second. With beer close to $20, you may not make this your local watering hole during your travels here.
What is in the Singapore Sling?
Let's face it, the drink has an exotic feel. It's named after a place on the other side of the world, it's tropical, from a place with a colonial past and now Singapore is an emerged nation filled with wealth. The drink, although a touch sweet, is also tasty. The alcohol is gin (a spirit making a comeback on my drink list) and the main juice is actually pineapple (one of my favorite mixers), but it includes a whole lot more – you can see the official Raffles Recipe here.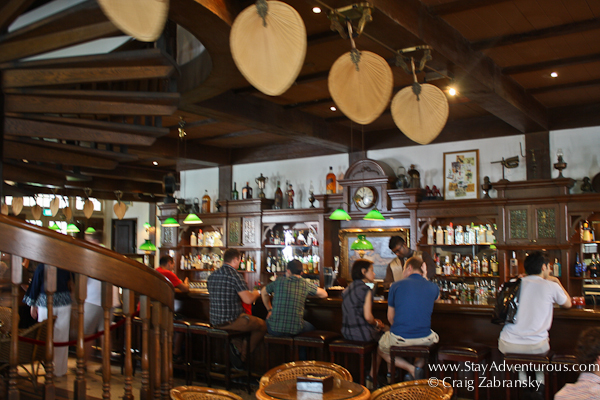 Would you do it Again?
Yes, absolutely. Although the drink can blow a daily budget, it is not just tasting the concoction that makes the moment, but also tasting history. The drink is 100 years old, so many people have tried it, and tried it here. Plus, odds are if you make it all the way to Singapore, you can add the Singapore Sling to your trip budget and that is true even if you are, "slinging"it…
Stay adventurous, Craig