One of the true joys of Acapulco is the view of its bay. The view, special at all times of the day, might be best at sunset (I am biased).  Luckily, I was in town this past week and arrived just in time to watch the sunset on Acapulco Bay.
An Acapulco Bay Sunset
After a quick shower to freshen up from travel, I opened the sliding glass doors and walked onto my balcony at the Grand Hotel. I stared out at the Pacific Ocean and enjoyed a look at one of the world's most famous bays. A buena vista indeed.
Acapulco as a destination offers much nostalgia from its decadent past and I recalled visits during my days in DF (Mexico City). We made long weekend trips to the coastal city for the legendary nightlife and for days spent recovering on the beach (plus some bungee jumping too). But this trip, I arrived to attend the Foro Mundial de la Gastronomia Mexicana (FMGM); it was all about the food. But before I attended the opening ceremony, I decided to head to the beach to finish my sunset on the sand.
I headed down to the lobby of the Grand Hotel Acapulco and walked out to the beach. My simple goal, to watch the sunset with sand between my toes and the breeze from the bay on my face.  Mission accomplished.
But, has the Sun Set on Acapulco?
Simply stated – No. Sure, after recent troubles and the more recent Tropical Storm Manuel that damaged much of the surrounding area, you can see some of the affects. Workers were painting and repairing a roof at my hotel and the lobby still had spots off limits. I also noticed empty store fronts and even the beach seemed quiet for such a beautiful evening.
But I saw more…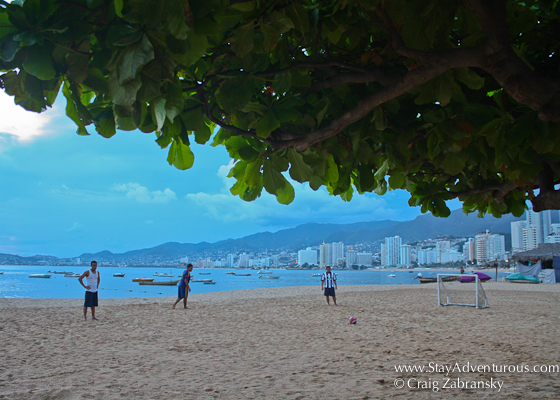 I was attending an impressive inaugural conference that included amazing chefs and an enormous stage for food demonstrations. I walked through the numerous stalls of products and destinations thrilled to be attending (and eating at) a food forum.
I watched a young girl (of maybe 3 years) smile and then hide as I purchased a cerveza from a family-run shop for my Acapulco sunset moment. I dined at beautiful restaurants from, Zibu (a dinner for 180 guests), to a delicious Taqueria in the center of downtown. I also watched a soccer match on the beach with a few "players," was asked to jet ski ($40USD por media hora), offered more cervezas and listened to Mexico's world cup qualifying – hope stays alive with a much needed win.
But my favorite view was of an older man back to work in the bay after the storm. The fisherman probably spent his life on Acapulco Bay and he was back in it, back to form, back to normal. He waded the water casting his net into sea in hopes of catching bait for tomorrow's fishing excursion, or maybe even some dinner for his family. I am sure he has seen tons of changes in Acapulco through the years, but one thing that hasn't changed at all… that sensational sunset on Acapulco Bay.
Happy Sunset Sunday
Stay adventurous, Craig
Special thanks to FMGM for my invitation to attend the Inaugural Forum and the chance to return to Acapulco. And definitely everyone involved deserves a "Bravo" – job well done.