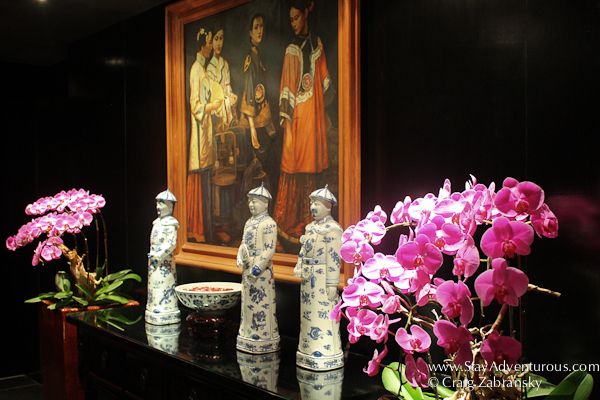 Singapore makes an excellent entry point to Asia, specifically Southeast Asia. English is wide spread, it is modern, clean, efficient, and the food is simply amazing. Besides its cuisine, Singapore is also probably known best for its shopping, night safari, orderly society, and the Singapore Sling. The country is a place travelers can easily ease into Asia.
On a recent trip I spent four nights in town and stayed at the Orchard Hotel Singapore and it turned out to be a good choice.
The clean, neat, spacious lobby was a welcome sight after my long haul to Asia. Greeted by a friendly staff, I checked in and received immediate access to my room just after 8am (nice). Having flown 20 hours from New York coupled with the 12 hour time change, travel took its toll (even on Singapore Air – but the airline certainly eased the pain). It was time for a nap and I woke up for lunch.
The Baba Buffet, Noodle Bar and Hua Ting.
When people offer recommendations about Singapore, they often just make a list on where and what to eat instead of typical tourist highlights. Food, delicious food, is a main reason to visit Singapore and the Orchard Hotel Singapore delivers tastes at all levels.
The award winning breakfast and lunch buffet (really good even for someone who often stays away from buffets ) included fresh food from all the major influences in Singapore; Chinese, Malaysian, Indian, Western and the Chef's Paul specialty Peranankan or Baba (A Chinese-Malaysia fusion from 100 years ago when the Chinese came to Malaysia in large numbers).  Actually, the award-winning executive chef has many accolades in the World Gourmet Awards of Excellence. You can cast a vote for him, I did.
Then there is the hand-made noodle bar (another must eat), but the crown jewel is its Hua Ting Chinese restaurant. Again award winning and delightfully delicious. But perhaps what impressed me most, besides the food itself, was that all the hotel dining options were not just frequented by hotel guests, but by locals too.
Orchard Road Location
With hotels, especially city hotels, location is one of the most important attributes. The Orchard Hotel Singapore provides a great location for travelers to explore the city. Located on the famed Orchard Road, the hotel provides easy access to shopping, shopping and more shopping.
Not being a shopper, I really enjoyed the proximity to the Singapore Botanic Gardens. The enormous and impressive gardens are FREE.  Well, the orchids required a small donation, but visitors can find everything from gingers to a rain forest walk. It is the perfect, peaceful, Zen-like space in contrast to the high-tech, modern city.
 The Outside Pool
Singapore can be hot and humid. I discovered it can rain too.  Although, at night with a slight breeze, I really enjoyed cooling off poolside.  I often enjoyed the city pool and spent time there just as I did when staying in Miami. So after a Singapore sunset and before dinner can be the best time to take a dip.
The pool is officially open until 10pm, so a swim is always a possibility.
The View of Singapore
The view is often the first thing I check when I enter a room. Actually, I never leave the lobby desk without asking about the view. With construction in the area and being on the Orchard Road (not Marina Bay), my view didn't impress except maybe when watching the Singapore sunset.  But sometimes you need to select such a location as with city travel you often don't spend much time in the room, but if you did you'd like the newly designed signature club rooms by French interior designer, Mr. Pierre-Yves Rochon.
My Recommendation and Cost
If (or rather when) I return to Singapore I'd definitely return to the Orchard Hotel Singapore.  It was my second Millennium Group Property (I stayed at the One UN New York) and it will not be my last.
The Orchard Hotel Singapore can be perfect for a family, couple, or if on business for spending the time you need to in Singapore. Rates for one night (two weeks out) are at $255 Singapore Dollars (1.24 USD to $1 SGD) I received a press rate for my time at the hotel.
Stay adventurous, Craig