I am not sure when my travel plans might take me to Bishkek, Kyrgyzstan to see a sunset or if I'll ever have the pleasure.  However, Elin Reitehaug has spent a week in the former Soviet republic and thankfully has shared one of her special moments with us this Sunset Sunday.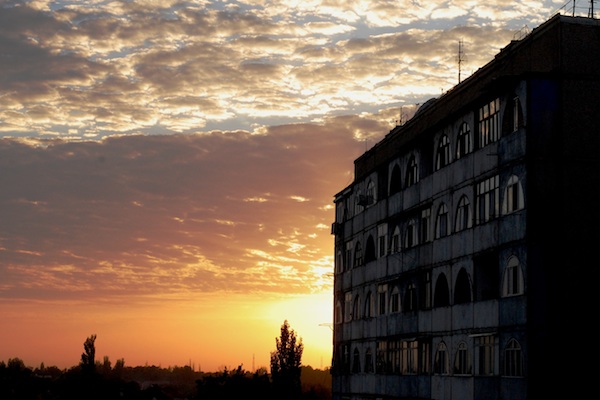 The Russian Alphabet and the Sunset
I really needed the relaxed atmosphere on the roof top restaurant, and the sight of the beautiful sunset over the roof tops of Bishkek made me stop and breathe. I was thankful to my two fellow student s from the language school which invited me to come with them for an evening of food and wine – they probably noticed I needed it.
Of all crazy ideas, I had signed up for an intensive course of private lessons of Russian from 10:30 to 17:00 every day for the whole week I stayed in Bishkek.  Did I know any Russian? Not a single word – nor the Cyrillic letters! However, after recovering from the shock of the first days I actually enjoyed it – maybe it was the magic from this sunset?
-Elin
This sunset was taken from the restaurant Генацвале (Genatsvale) on the top floor of Vefa center by Elin Reitehaug on a trip where she and two friends drove the 18,200 kilometers from Norway to Mongolia in an ambulance. She took part in the Mongolia Charity Rally in 2012. Elin is the founder and writer at Taste of Slow– a blog about travel and vegetarian food. She can also be found on twitter at @tasteofslow.