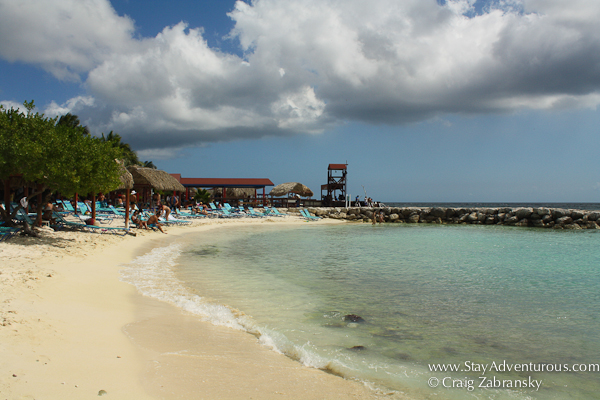 "Bring your scuba to Aruba." That was all the buzz as we sailed towards Aruba. But I didn't "scuba." I never have. Therefore, I chose the next best option – snorkel. And the snorkel excursion meant a trip to De Palm Island.
De Palm Island
The island was just a few minutes away and extremely close to the port. Probably too close. It was located near industrial plants that were visible from the island.  I remain curious about why they'd ever build a "paradise" escape there, but they did. And since I was already locked in for for a few hours on the excursion I had no choice but to get a cocktail and enjoy it.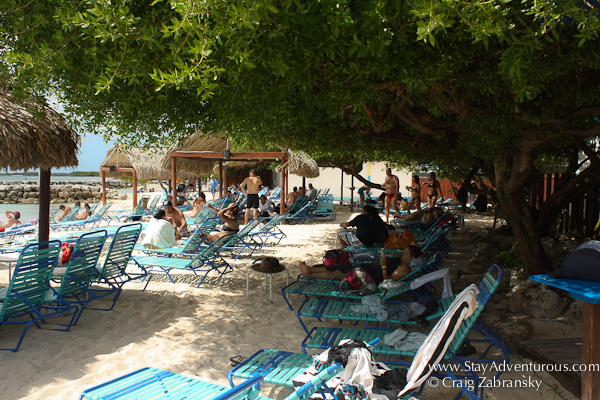 As for the snorkel, the fish were plentiful and colorful even in the rough water. The snorkeling equipment was included in the excursion cost along with a buffet and open bar. However the cups were way too small. It made  drinking with any sort of copious quantity intention a real challenge. But luckily, I did bring a novel and have a Doug from Cruise Radio to talk travel with.
The excursion was not my favorite from the cruise, but I did the best I could to "Scuba in Aruba." And thankfully with a late departure (11pm) from Aruba and only 1/2 day excursion on De Palm Island  I was able to capture a sunset on Aruba too.  And I captured that on a different beach, the pristine Eagle Beach.
stay adventurous, Craig
this post is part of the winter Beach Thursday series. enjoy a beach post every Thursday all winter long.