Most of my early visits to England might as well be called visits to London. Not until my friend took a job in North Yorkshire did I decide to make a real journey outside the London area. Then I discovered he lived near York; the original York. Curiosity captured me and I planned a visit.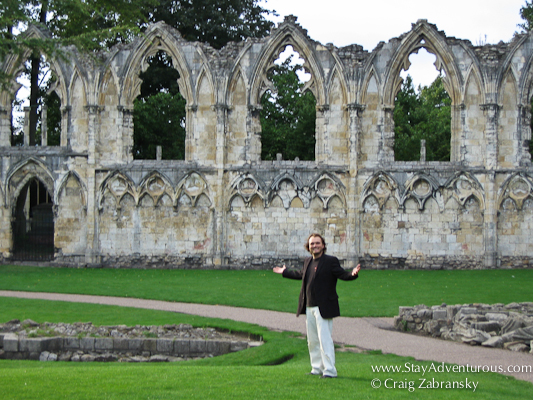 Where is York, England?
York turned out to be just short train ride from Harrogate, the city my friend then called home. And both those cities are part of the estate agent coined region, "the Golden Triangle of Yorkshire" along with the third (north) Leeds. The region is said to be one of the nicest in all of England. After my visit I might agree.
Five Things to Do in York
York is not New York. Its skyline is the York Minster not skyscrapers. It is a city surrounded by ancient walls and its population is well below the 8+ million. But I discovered York is worth a visit, and one can easily spend more than a day enjoying the sights, sounds and attractions. And if you only decide to spend an afternoon here are five activities to consider on your visit to York.
1) Walk the Wall. It was a walled city since Roman times and much of the wall remains. Visitors can find guided tours or just walk on it on their own and appreciate it's remains.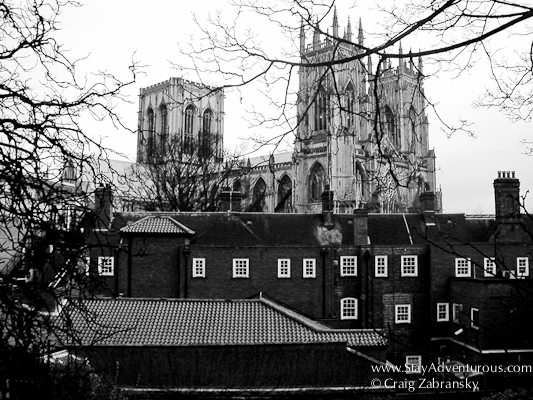 2) Take a Photograph with Constantine. One of the most influential and famous emperors of Rome was crowned here in the year 306. Who was he? Well he established Christianity as the religion of Rome and also created a second capital city in Constantinople (present day – Istanbul). Visitors can find a statue near the York Minster.
3) Visit York Minister. Tagged one of the 1,000 Places to See Before You Die by the author Patricia Schultz's, York Minister impresses. The 10 quid admission seemed steep to me, but compared with a trip to the Empire State building is still maybe a bargain.
4) Walk down The Shambles. Take a stroll down arguably the best preserved medieval street in the world. Mentioned in books written at the time of William the Conqueror, some of the present day buildings date back to the late 14th century. The buildings lean towards the narrow streets and for a cozy, yet charming walk down history.
5) Have a pint and some Yorkshire pudding. Two classics definitely available in plenty in these parts of England. And well, when in Rome… well that is probably what Constantine thought anyways. Enjoy.
stay adventurous, Craig
Travel Tip: If you want to travel from London it takes just over 2 hours to reach York via a train on the East Coast line from Kings Cross.
This is part of the European Summer Series
;o