One of the oldest squares in Cape Town, Greenmarket Square can be found just a few blocks off Long Street in the center of the city.  On one end of the street, I stayed at the Westin on the other end I found the perfect Royale with Cheese burger. And if you head to Cape Town and plan to hit the 'scene' you will find yourself sipping a point somewhere on Long Street too.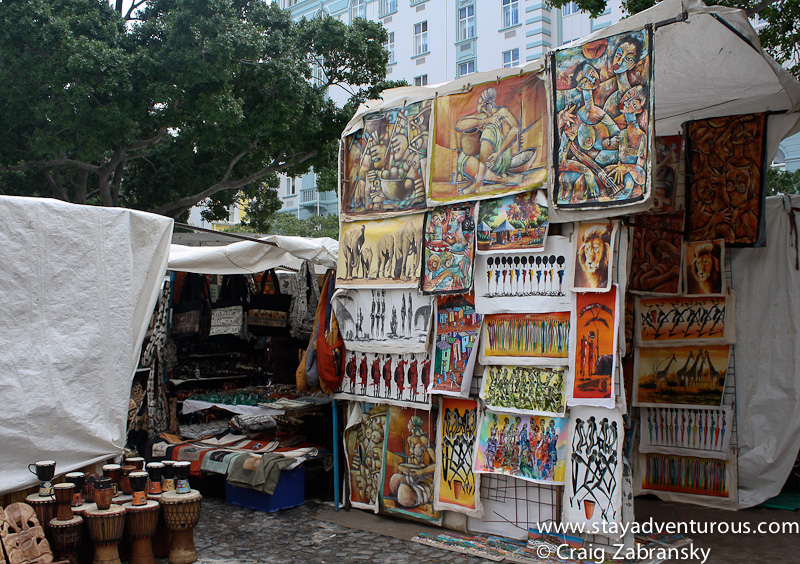 Just off the center of Long Street, you will find Greenmarket Square. The square served as a focal point in all parts of the Cape's history. It origins are from its early colonial beginnings and also include it's more recent political movements during apartheid. Now the squares serves as a place people gather to socialize in the many cafes and to also enjoy shopping in its informal flea market.
The market, loaded with African crafts, gives any African traveler a chance to purchase a "authentic" African souvenir without venturing deeper into the African wilderness. And many don't because you can spend an entire vacation in Cape Town and it's surroundings.
Enjoy scenes from the market. It's Greenmarket Square Cape Town, South Africa.
When finished shopping of course stop and take in an afternoon beer at one of the many surrounding cafes.
stay adventurous, Craig
this post is part of the Market Monday Series (season 1) and also a bit of a holdover from the All Africa All April (Almost)