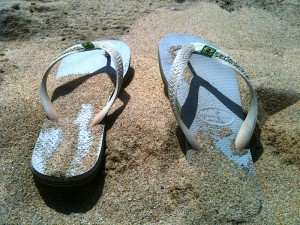 Although not specifically outlined in my goals for 2011, creating more video more (or really some) video for my site is part of my goals. I want my photography not to solely capture moment through a specific images, but even tell more of a story. Sometimes, that requires video.
And to start off the year, I decided to work with TripFilms.com to not only watch more videos myself, but enable you, my readership to watch videos too. (You'll notice the widget and link to the video of the day in the right column). So, I encourage you to take a look, and also know someday you'll see a few videos from Stay Adventurous too.
And even though officially the calendar entered spring and my winter series on Beach Thursday is "over," it doesn't seem like New York City is cooperating. More snow? Ok, so I thought to add one more installment of beaches for you. So do enjoy, a selected  few Mexico "beach" videos for you reviewing pleasure.
Mazatlan
Videos can also be a series, and "inTransit" a gentleman travels through Mexico creating videos on each destination and providing advice to the traveler on where to stay, what to expect, and its costs. I selected this Mazatlan video because it reminded me of how I must get there for Carnival one year and the fact he visited the beach outside Hotel Playa Mazatlan in the Golden Zone, a place I stayed.
Tulum
A father takes his son to explore the history of the Mayan ruins of Tulum and apparently listened to one of my 3 tips on the Big 3 Mayan Ruins of the Yucatan Peninsula. He packed bathing suits. Not just their for edcation, but also some relaxation,  the father-son tag team, enjoyed a magical mayan moment in Mexico.
Acapulco
The destination hosted, Mexico's major tourism conference, Tianguis, since 1976 and also serves as Mexico City's weekend beach party playground. Its electric nightlife and golden sand beaches still delight most. But, for me, it holds a special place in my memories as my first "guys" road trip inside Mexico. What a blast we had (from what I remember). So much so, we decided to make it an annual pilgrimage.
On our second trip, we stayed at the Acapulco Princess. This video brings back some fond memories of my time at the hotel and enjoying the city's nightlife. The Spanish speaking hosts creates a "novella-style" video worth viewing. And yes, its all in Acapulco.
stay adventurous, Craig
This post is part of the Mexican March Madness 2011.