The Space Coast, well the name itself gives away two activities using the words "Space" and "Coast" when visiting this Florida destination, but on my recent travels I discovered there is much more to do in this tourist location. This rich destination goes well beyond beach time and a visit to the Kennedy Space Center. Of course, as already noted, those are on the list, but read on to discover more must do activities and attractions on a visit to this part of Florida.
Visit the Kennedy Space Center
There is no other place on earth where people have launched people to the moon and returned safely to earth. Here the missions to space and beyond are not etched in fantasy, but reality. Can I say – it's science?
A visit to the Kennedy Space Center allows us all to review and appreciate our nation's stories space exploration past. Walking through the sites such as the Hall of Heroes and Legends or the Atlantis exhibit educates us all on the amazing accomplishments of the men and women who worked on our nation's space story. But it doesn't just discuss the past, it also showcases the plans for the future which now include a return to the moon and eventually a human mission to Mars.
Also, definitely check out the current rocket launch schedule since rockets are consistently launching from Cape Canaveral currently. Some of the rockets even return to land back on the launch pads and provide multiple sonic booms when doing so. Sadly, my trip did not coincide with a launch, but returning to witness one is certainly on my radar. Actually there is a launch today and two more in the next ten days, see the events and launch schedule for details.
Find Your Beach to Surf the Waves
Cocoa Beach is a quintessential beach town, complete with an iconic downtown, soft sand beaches, fun food options for breakfast, lunch and dinner and plenty of attractions and hotels lining the coastal road.  But this town is also surf central for Florida, if not the entire east coast.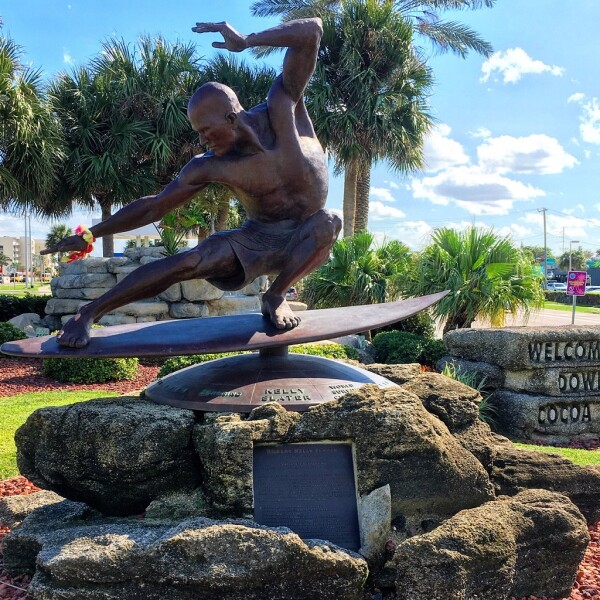 As home to Kelly Slater, the 11 time World Champion you can become a world class surfer in these waves. I did brave the break one morning but I certainly did not look anything like Kelly posing to welcome everyone into Cocoa Beach's downtown.
Not a surfer? Want to find a remote beach instead? No problem. One of the best beaches in Florida can be found inside a local National Refuge. Playa Linda consistently ranks as a top beach in Florida, a state with plenty of competition for the title from the likes of Sugar Sand of Clearwater, the pristine nature of Bahia Honda in the Florida Keys, world famous Daytona Beach, and places like Destin too.  But here at Playa Linda (translate to cute beach) visitors will certainly appreciate a chance to take in some beach time after a visit to the National Park System's Merritt Island.
Local Watersports including an Illuminated Night Kayak
One of the unique aspects of the destination is the additional water activities available so close to the beach.  With the Banana River (a salt water lagoon) and the Indian River in proximity, inland fishing is available for tarpon and bass along with the opportunity for multiple watersports. One activity for the nature enthusiast is a chance to kayak in a nature reserve to see dolphins, manatees, and hundreds of bird species too.
In the summer months of June through early October, there is the opportunity to take a night time paddle to experience the unique bioluminescence found in the area's microscopic algae. No, this is not NASA runoff, but rather more like a scene from Avatar the movie in real life.  Tours are available through with guides, including one that starts with a sunset too via A Day Away Kayak Tours.
Walk Among the Dinosaurs or a Hall of Fame?
Destinations always could use a few activities for rainy days. And the Space Coast offers multiple museums to cherish for such days (or even one needs a break from the sunshine too.) Walking distance from my hotel in Cocoa Beach resided a solid dinosaur collection. Yes, the Dinosaur Store contains an impressive Hall of Dinosaurs. So if you can't see yourself visiting one of the top museum attractions in New York or Chicago in the near future, no worries, kids (and adults) can enjoy a collection in Florida's Space Coast.
Another impressive stop for the folks wanting to explore more space is to set up a time to tour the American Space Museum and Walk of Fame in Titusville. Here, the artifacts may not be as grandiose as at the Kennedy Space Center, but the local docents at this not for profit share personal tales of the space program. I listened and learned about details about the Russians racing us to the moon in the 1960s and more. They denied they were making an effort.
The Cocoa Beach Pier
One of the best surf spots, the iconic Westgate Cocoa Beach Pier was actually home to surf competition during my time and is often the place for events, concerts, more. Complete with live entertainment and a beach that has lifeguards, visitors will find people fishing, surfing, dinning, shopping, and taking in a cocktail at the pier (even today). For the tropical vibe walk the entire 800 foot pier to the Tiki Bar at the end too.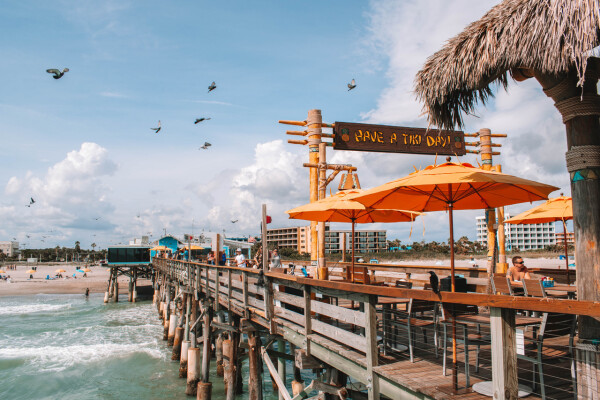 Staying a mile down on the beach at the Courtyard by Marriott Cocoa Beach, I headed to the beach in the evening to walk to the lit pier for an evening out. It made for an easy stroll in the darkness of night heading towards the light of the pier for dinner and drinks.
Play Golf
Mini golf courses are a must for a family beach town, and Cocoa Beach delivers. One place, Golf and Gator, offers interaction with live alligators for a full Florida experience and is adjacent to a grand prix electric go-kart track. Yes, driving down A1A on the coast you will not even hear the roar of the engines, they save that for the periodic space launches.
Another not to miss is the plethora of golf available really anywhere in mainland Florida with the Space Coast no exception. And  for those looking for a little more of a challenge beyond mini-golf, but are not ready to make golf an entire day event, consider the short course, a pitch and put, close to I-95 in Viera.
The course, Chipper's Walk  provides for a fun time. Plus, one can even borrow clubs since you don't need much more than a mid-high iron to reach the 125 yard furthest hole. It was my last stop for fun after leaving the beach and returning to the interstate.
Ron Jon Surf Shop
I am not one for shopping often, or recommending it unless it involves food such as in a market, but the world famous and massive Ron Jon Surf Shop is clearly worth a visit.  With all the signage on interstate I-95 traveling south through Florida, I am glad I finally came to see what it's all about.
From surf boards to apparel to everything related to a quality beach day and open late nightly or perfect for a break from the Florida sunshine there is never a bad time to "drop in."
After two hours in the store, I made a few purchases too. It is definitely a great place to take home a beach focused souvenir to match something NASA / Space oriented you probably purchased at the Kennedy Space Center.
So, there you have it, my normal "the five" series increased to seven. Of course visits here will take you to the beach, and also to NASA Kennedy Space Center, but there is much to do here for those who want to experience the destination beyond a day for a cruise port or even a long weekend at the beach (as I did). There are activities that can keep one busy, active, and entertained to make the space coast a holiday destination on to itself.