If Austin, Texas ever relinquishes the branded slogan "stay weird," I'd suggest Fairbanks, Alaska takes it.  The characters that call it home aid in making city such fun place to visit when visiting Alaska. Fairbanks established itself during an early 1900s gold rush when an entrepreneur (and eventual scoundrel) ET Barnett essentially ran aground by accident in the shallow Chena River with a boat load of supplies. Originally set off to reach a different region, the decision to stay and unload eventually led to the creation of a local trading post. Couple that with stories of local gold discovery and suddenly Fairbanks was born.
Today, the largest interior (non-coastal) city in all of Alaska doesn't serve as place for dreamers seeking fortunes, but rather adventurers seeking a gateway to the Arctic or an Alaskan holiday. But don't overlook this gem of a destination by itself too. Make sure your plans in Alaska allow for 24 hours here to appreciate the fun in Fairbanks.
Here is how to spend your day.
Gold Dredge #8
Although riches were made, the gold rush never panned out for the little guys, enormous efforts with massive machinery eventually took root in the town creating a corporation with a specific and rather complex process of mining for gold. A visit to Gold Dredge 8 will explain all these details while taking an informative tourist train to a place designed for visitors to pan for their own gold.  The eventual "flash in pan" will excite everyone with gold guaranteed for all participants.
Of course, nowadays it's just the tourists who pan for gold, the locals can be said to mine the tourists instead. Visitors discover the countless ways to take home their new found gold "nuggets."  Magnets, Christmas ornaments, bookmarks, earrings, bracelets, and more are all available for purchase with your own gold inside.
On average folks find $10-$20 in gold, but they'll spend more than that making it into a fun souvenir. I know I did. (And honestly, it's one of my favorites from Alaska). It was an easy sale.
Travel Tip:  Grab a free hot chocolate and chocolate chip cookie and walk over to visit the barge itself before the train takes you back. There may not be a tour guide detailing all the items inside as with the train ride, but the exploration and lacks of crowds among the massive machinery will provide for a unique experience.
Alaskan Pipeline
The next gold rush in Alaska was for black gold. Once oil was discovered on the North Slope there was a need to bring it south to civilization for exporting and processing. The solution – an 800 mile Alaskan Pipeline.
Local tourism highlighted this engineering marvel as a must visit when in Fairbanks? I questioned it. But as a quick stop and essentially part of the Gold Dredge Experience, the time was well spent.  Positioned both above and below ground, the pipeline was designed for the environment including remaining conscious of wildlife crossings.
Today, the revenue from the black gold is shared across the state.  Each Alaskan receives an annual dividend (normally $1,600 – $2,000) not to mention the lack of Alaskan income tax or even sales tax in Fairbanks too.
River Boat Tour
Hop aboard the Discovery III paddle boat for a three and a half hour fully narrated Riverboat Discovery tour. Voted the best in North America, watch a bush pilot take off and land a sea plane Chena River and learn the past and present stories of those who live on the riverside of Fairbanks.  Enjoy a stop at the Susan Butcher Kennels to watch a dog sled demo led by her daughters and also learn about her incredible Iditarod racing triumphs in her life. Then disembark in the local historic Athabascan Indian village and learn about local salmon catching and smoking techniques along with how this native Alaska tribe survived and thrived in this region long before the Europeans or modern conveniences arrived.
Travel Tip:  Although instinct may tell us to head to the top deck for the best views, I might head to the wider 3rd deck to have more unobstructed views especially if you plan to take scenic photographs. Or at least consider it on the way back for the best access to the free smoked salmon samples and the Alaskan craft beers available for sale.
Salmon Bake and Pioneer Park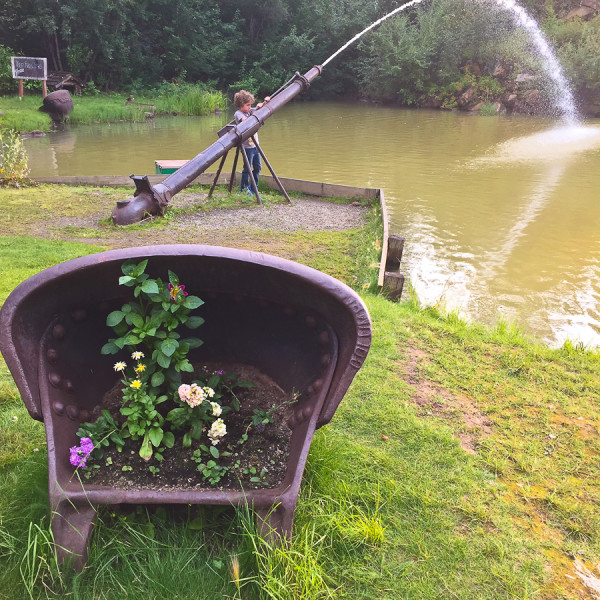 In Pioneer Park a small train chugs slowly around the grounds for visitors to see all the grounds which include a three disc golf course, loads of equipment from the mining days, museums, shops, and more. The park, created as part of the centennial anniversary of the purchase of Alaska in 1967, serves as a reminder of the past and a present day meeting place for locals and visitors alike.
Inside visitors can also purchase tickets for an authentic Salmon Bake. Salmon, it's what's for dinner in Alaska and the runs make it plentiful in the summertime.  Wood grilled salmon is served up with quality sides thanks to a local family who owns and operates the bake for 40 years.
You'll notice different colors, cuts and even tastes of the salmon, so this is as good of time as any to learn about the five main types of salmon in Alaska – chum, sockeye, king, silver and pink. The Salmon Bake is open 5pm – 9pm nightly from mid-May to mid-September.
Travel Tip:  The wood grilled salmon is a must, but also make sure you try the local beer battered pacific cod and leave room for a trip to the specialized dessert cabin to sample the local fruit compotes too.
Palace Theater
Just a short walk from Pioneer Park and a great way to spend the evening after a fulfilling Salmon Bake is the Golden Heart Review at the Palace Theater and Saloon. Sadly, the saloon part, removed years back to put in more seating, no longer provides access to the many local craft beers available in Fairbanks. Yet thankfully the review of a show provides enough entertainment to make such drinks nearly unnecessary. Funny, educational, and compelling the show will also provide visitors a chance to understand, question and appreciate life on the frontier. Shows are daily at 8:15pm in season.
Travel Tip:  The theatre doesn't necessarily have a bad seat in the house, but do arrive early if you want to sit together with a large group. The shows are often sold out.
Fairbanks has a unique past and today serves as the gateway to the Alaskan Arctic, allowing people to travel further north above the Arctic Circle. Even Santa Claus village is just 20 minutes away by car. But there is no reason to rush out of town, there is plenty to fun to be had even if you decide to spend just 24 hours in town.
Stay adventurous, Craig