Airports can be caverns of doom and gloom.

Most folk can agree that a vacation doesn't properly begin until you're well clear of these busy travel hubs, but it fails to make the journey to the airport, the slow, snaking lines, and the overzealous security staff any more attractive.
These annoyances, it seems, are unavoidable, especially if you're traveling through an extremely large airport like LAX. However, fret not, there are a number of ways to make your next trip smoother than a shaved penguin in a wetsuit.
From pre-booking airport parking and heeding valuable check-in tips to recognizing why you should avoid the boarding lines, our tips will have you navigating LAX with ease, putting you on the flight with a spring in your step and a feeling of smugness over your fellow travelers.
Take a look below, you'll be glad you did …
Sort out airport parking before you leave
We're all well aware of the shortcomings of the LA transport infrastructure, but trying to make your way to LAX on public transport with lots of luggage and a rabble of kids is enough to send anyone over the edge.
The solution? Take your own vehicle to the airport, our smart adventurer!
However, it's extremely important you pre-book your airport parking. Why? Because not only will it save you time at the airport, you can save a few dollars by sniffing out the best deal. The easiest way to do this is to use LAX airport parking comparison site Looking4.com. Thank us later.
Check-in desk, schmeck-in desk
If you have a phobia (or simply a severe dislike) of lines, an airport is not your friend. But there are ways to avoid them. Rather than lining up to check-in, you can do the business online and simply leave your luggage at the designated drop off point.
Remember there are also self-service facilities dotted around LAX terminals, so if you forgot to check-in online, use these with the assistance of a member of staff. You'll be sauntering to the departures lounge in no time.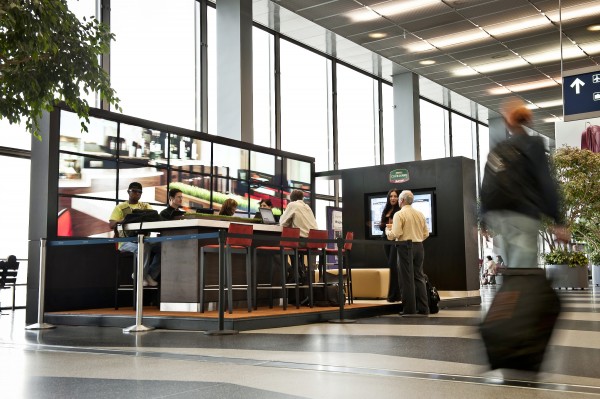 What boarding line?
There's this incredibly strange behavior that you'll only really witness at airports around the world: people lining up to board the airplane. Why do they do this when they have an allocated seat? Why?! WHY?!
It's not your problem, but you can buck the trend and spend more time in the bar or browsing duty free.
All that standing in line does is make your blood boil at the fact that you're not moving. It also means that even if you're one of the first to board, you'll simply spend more time sitting in your cramped seat waiting for the savvier travelers to get on board … and that's no fun, is it?
What do you think?
Do you have any top tips for our readers looking to negotiate the hurly-burly of LAX? Have you ever put any of the tips above into action? Please let us know in the comments section.