Traveling briefly through the Boston area earlier this summer I decided to visit Harvard University campus for the first time.  I already visited such top colleges as; Cambridge University, Oxford University,  Princeton University, and even attended a course at Yale University. I was curious how Harvard University might compare?
I decided to take the seventy minute "Hahvahd Tour."
Celebrating its 10th anniversary season, The Hahvahd Tour, provided as much entertainment and laughs as historical context. The balance made for a much more entertaining tour and its easy to see why it ranks as one of the top Tour and Attraction in Cambridge on Trip Advisor and in my opinion one of the best things to do in Boston (or around Boston).
What Did I like?
History through Story. Sure, the guide points to buildings were famous students lived such as John F. Kennedy, Teddy Roosevelt, Mark Zuckerberg, and others, but it is how the history of the University ties to US history that adds to the experience. My personal favorite was the story of Widener Library and the Titanic. Also, the library itself holds over 50 miles of book shelves, you can run two marathons chasing books. Impressive.
What Did I Love?
My Tour Guide. I suspect all the tour guides provide the theatrical experience for the tour, but the "scripted" jokes and stories along with his (Joe's) unique experiences not only entertained but also gave me an understanding of the college life at Harvard. He made the tour.
Things to note
You don't get to enter any of the "famous" buildings, but you do see Harvard Yard and Harvard Square, including Widener Library, John Harvard Statue, Memorial Hall and more. The no entrance is not a surprise as the tour explains that, but it still disappoints some as the tour ends… especially since the guides do such a great job and leave you wanting to know and experience more. I guess you need to apply for "entrance."  (I suspect the guides will appreciate that joke)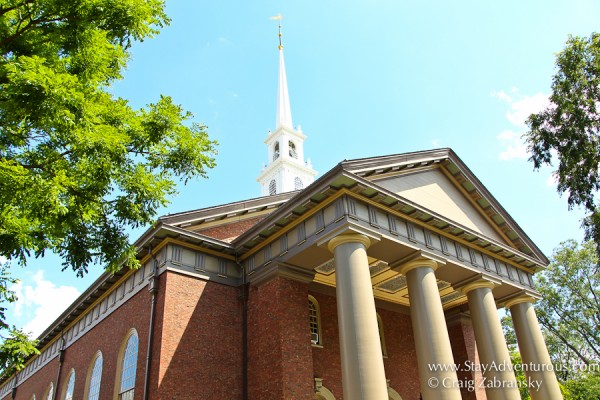 Also, during the summer, much construction takes place on the campus, Now with back to school and the fall semester in full swing it is probably even a better time to walk the campus. I suspect the best times are probably early fall or late spring.
Summary
The tour is definitely a great "to-do" on a visit to Boston. Also, Cambridge itself is very a walkable neighborhood. After you park your car in the yard (prepare for tight spots) you'll find a town filled with great ethnic cuisine options (I had an excellent Indian meal) along with cafes for coffee, ice cream or even a beer.
How did it compare? It may not have taken the top spot on my personal finest institutions tours, but it was certainly well worth the visit and impressive to experience and learn about one of America's finest institutions. If you want to see Harvard, this is a great way to do it.
Stay adventurous, Craig
I was a guest on the tour, but as always the words and opinions are my own. Tours run daily in March through December and cost $10 or less for students/kids. Details available > here