Every Friday at the St. Regis Resort in Punta Mita the sunset is celebrated in style. Out come bottles of champagne to the lobby with a gentleman holding a long sharp saber. The Sabrage, the technique of slicing a bottle open with a saber (a special sword), is performed for all the guests to watch followed by a flow of champagne at sunset. A champagne celebration worth attending.
I arrived with my team early to the hotel (and not even on Friday), but as special guests only viewing the hotel for the Live It To Believe It campaign, the St Regis Punta Mita Resort graciously decided to perform the weekly Sabrage Sunset celebration. Ah, my good fortune.
I walked through the lobby and met the gentleman who would eventually slice open the champagne bottle. The soft spoken expert would let the saber do most of the talking, although he did explain how the tradition began in the Napoleonic era. After each victory, the general would celebrate with champagne and open the champagne in such a manner to celebrate. Impressive. I am not sure if I ever enjoyed such tasty bubbly.
Sunset at the St Regis Punta Mita Poolside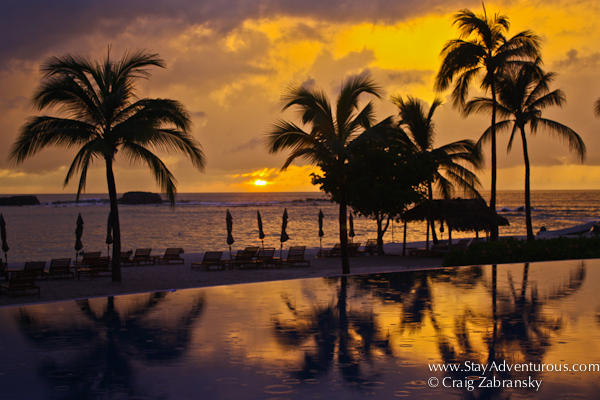 After a few glasses of champagne in the lobby of the St Regis, we toured the hotel with a healthy glow. Eventually we made our way to the pool overlooking the beach to watch the beautiful Banderas Bay sunset prior to dinner at the Sea Breeze Restaurant.
I wondered how the sunset looked from the lobby, but I was not disappointed in my view from the pool. I watched another magical sunset in Mexico, and this one was certainly celebrated in style with a sabrage.
I am not sure how you plan to open your champagne (or sparkling wine) this New Year's Eve, but hopefully you will celebrate in style as the sun sets on 2013. In style is exactly how I wanted to end a magical year of sunsets in the Sunset Sunday Series. Don't worry, there are many more in store for 2014, and the 2014 Sunset Sunday Calendar – Chasing the Sunset (still available for sale) was just the beginning. Happy New Year and Happy Sunset Sunday.
Stay adventurous, Craig
I'd like to thank the St Regis Punta Mita Resort for performing the Sabrage, and also to my crew working with the Live It To Believe It campaign for Visit Mexico and the Riviera Nayarit Tourism Board for helping me experience this special moment as opening champagne is no longer the same.