Some places seem alive. Certain destinations are filled with an energy, like New York, while other places are filled with life. No, not just the human population, but all life and those places tend to exist in nature.
One such place was the Creekview Country Cottage Bed & Breakfast in Muncy, Pennsylvania. Just off interstate 180, a small farm community still exists; a place that seems miles away from any main highway.
Guests stay in a salvaged, remodeled barn, but the outside grounds are what really left a mark on me. A small, simple, hike down to a creek and I discovered a bountiful garden (with produce you can pick for dinner), blooming flowers, migrating birds, buzzing bees, numerous frogs, and crayfish in the fresh water. All this within a one mile hike and all so plentiful.
I didn't want my time in nature to end, but then I noticed the sun setting through the forest, it was time to hike out, it was dinner time and I was the chef.
On that walk out I took these images of the sunset.  Happy Sunset Sunday.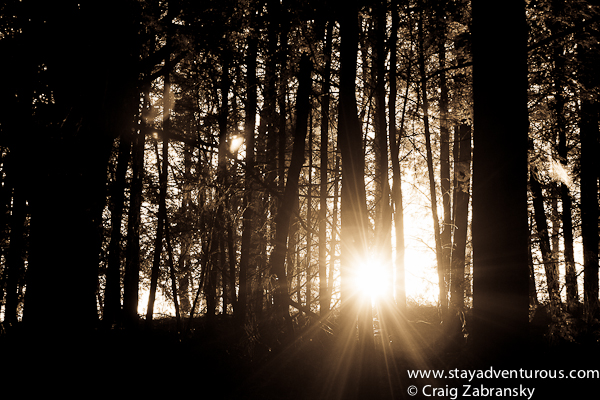 Stay adventurous, Craig