New Jersey.
As a New Yorker, I always said the best thing about New Jersey is the view of New York City. Hey, it is the light at the end of the tunnel, right? But after years visiting my college friends who call it home and spending summers at the Jersey Shore (not quite MTV style) I did start to change my mind.  Then I met Melissa through twitter.
Her writings and picture perfect Sunday's started to further enlighten me about the other side of the Hudson River. She eloquently describes and displays the beauty of her home state on her blogs. Don't call any movers just yet, but I did ask Melissa to share a view of New Jersey on my weekly Sunset Sunday: Thankfully, she agreed. Enjoy.
Since I'm from New Jersey (and proud of it), you know that I've pretty much heard all of the NJ jokes there are. I've also learned to smile and laugh politely when non-NJ folks ask me if I've ever pumped my own gas (of course I have) or what my exit is (Turnpike 9, Parkway 130).  It's actually even kind of comical when people try to get me to say "water" or "coffee" to see I'll speak with the so-called "Jersey" accent.
Yes, our jug handles make the roads a little confusing to navigate.  Yes, the 80s "mall hair" and scrunched socks trends lasted well beyond the 80s for many people living in NJ.   And yes, NJ has a ubiquitous presence on TV and the Internet these days, with the stars of MTV's Jersey Shore (somehow) having become our primary representatives. So yes, I fully expect that the jokes will keep on coming.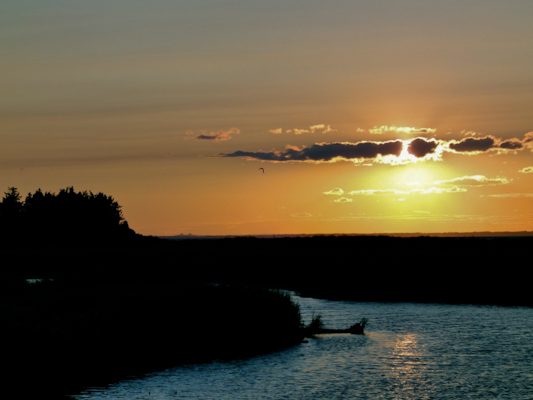 However, after catching the travel bug a few years ago, and learning to see the world through the eyes of a traveler, I've realized how much the state of NJ really has to offer.  NJ has a rich Native American history, and many significant Revolutionary War battles took place here – helping to secure the freedom and independence we know in this country today.  We have a diverse landscape including mountains, beaches, farms, and cities, and we have tremendous amounts of cultural opportunities.  NJ really is a true traveler's destination and the perfect place to bring your wanderlust.
I took this sunset photo during my NJ travels, visiting the oldest operating lighthouse in our country, in Sandy Hook, NJ.  The grounds around the lighthouse, the Gateway National Recreation Area, is home to numerous endangered bird species and is a favorite location for beach goers, bird watchers, and photographers alike.  If you look closely, you can even see a bird, who calls Sandy Hook their home, in this photo.
Melissa Morris is the writer and editor behindthe Jersey Girl now part of Notes on the State of New Jersey. She can also be found on twitter t: @morriswrite. Her writings can make anyone (including me) start to appreciate one of the original 13 states – New Jersey.