For Lisa and her family the world is calling. I can relate, it calls me too. And one thing I learned as I travel all over the world, the customs, culture, and cuisine may be different but shared experiences exist and unite.  One such experience is the sunset.
Lisa describes such a moment for us from the shores of Flathead Lake, Montana.
I was born in Kalispell, just a stone's throw from this gigantic lake—the biggest fresh water body west of the Mississippi—and have spent every summer of my life in the valley. We became waterlogged as kids, shivering with near-hypothermia (mountain lakes in these parts), convincing our cousins to jump in—com'on in, the water's fine!—wincing as we walked barefoot, over rocks in colors of amber and indigo and eggplant. We hauled out logs and did our best to stand on top of the slippery, rolling, splintery masses. We crafted Tom Sawyer-like rafts and rode the waves until they sank.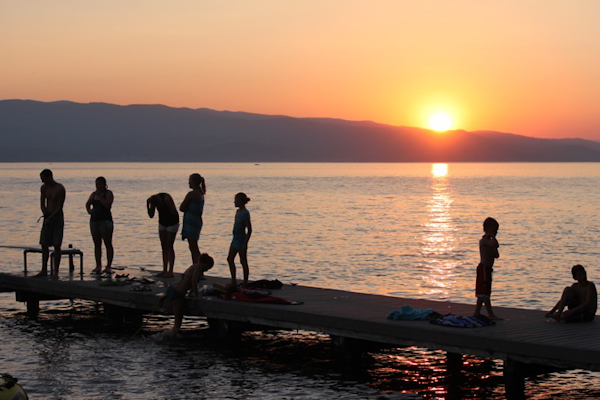 Later, we learned to waterski and kneeboard. We put an old lounge chair on a pair of old skis and rode around on it. We tied together a string of inner tubes and hauled the parade forward, nearly drowning those in back under a wave of water. We dived and dunked and skinny dipped. Shivering, we'd huddle close to a bonfire as our swimming suits dried out. And we'd think about doing it all over again the next day.
This picture is one of my children and my cousins' children, doing the same as we did. The torch has been passed, but the memories remain, as vivid as a brilliant, golden sunset.
-by Lisa Bergren
Lisa Bergren is the writer and editor behind The World is Calling, a travel blog for families. She can also be found on twitter t: @TheWorldCalls. The Bergrens live in Colorado, but travel to Montana every summer.