This past April my grade school best friend provided me a stunning tour of Oxford University. He studies there to complete his Masters in Archeology. On the walkabout town, he pointed out so many points of interest. Places of historical significance, literary hangouts, and even Harry Potter film sites.
On the tour, one could really feel the energy of the colleges, its tradition. Amazing. I knew I needed to purchase a journal here, something to inspire me when writing my African adventures. And yes, I found one in the Bodleian Library.
Now as I continue to fill the pages today enjoying my time in South Africa, I reflect back on those few days in Oxford. I recall that evening returning to student housing when the constant and consistent English rain ceased for a moment. The sun smiled as it set.
I quickly climbed to the second floor of the flat to take this photo. Happy "Sunset Sunday" England. (But please know I am still pulling for USA on June 12th at the World Cup)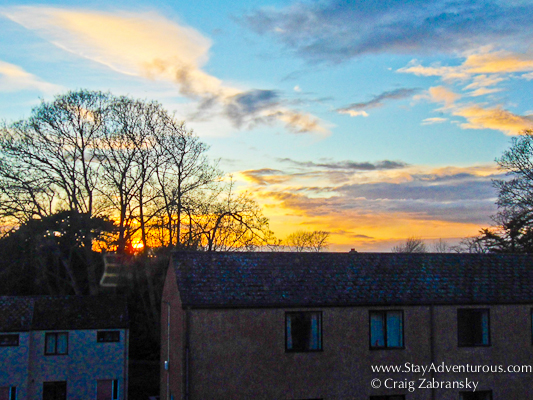 Happy Sunset Sunday
Stay Adventurous, Craig