Mongolia is a bucket list adventure for me and a place i know I will visit in the coming years. My main focus was to ride horseback across its grassy plains, but now I must also add fly fishing one of its lakes or rivers to that itinerary too. Rebecca describes her experience here ….
Mongolia was such an enjoyable trip because the cultures from mixed influences were a treat to discover! We tasted all kinds of street food and visited the Five Sacred Peaks because my friend hadwhich drained all of us of our energy, but it was fun!
We reserved our second to the last day to visit an area for fishing and rented some gear. The guides were kind of strict with marine sanctuaries nearby. We all jokingly accused our friend of wanting to fish there – and immediately stopped as we thought the guide would all put us in jail for what he said.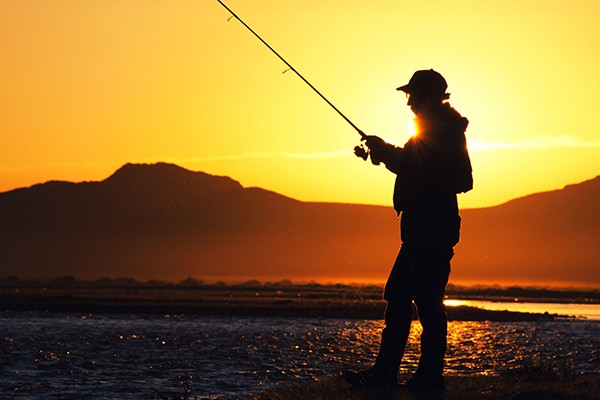 My body was aching, and I was starting to get cranky. But all the pain immediately subsided when we saw the place – a utopia with tranquil, undisturbed clear waters and fish just waiting for our lures for them to bite. It looked and felt heavenly, and we finally ran into the water as fast as we could to cast our lines.  The area around us was a mini-paradise for anglers. The lake looked as if it was ironed out, little to no waves. The water was crystal, you can almost see your reflection – and the view of a deep blue horizon with a near-cloudless sky makes you just want to thank whoever created this earth.
Lake Khar was wonderful.
We were the only ones there; apart from a few others fishing. Wherever you cast, left and right or out front there were fish, big and small. I played a little in the white sand, there were quite a few stones here and there, and we tried skipping a few of them.
I am proud to have reeled in two big ones! I raised them up for everyone to see as the sun was slowly setting and turned the wonderful blue sky to a mesmerizing and relaxing yellow. It looked almost solemn, like a candle's flame slowly burning out. We all had fun and released everything we caught (We didn't want to get into any trouble) And just as we saw it was getting darker and the sun was setting I decided to whip out the camera for some group pictures but decided to take this one first. And it was perfect! All of this was just before my friend and I decided to pack up and go home. You can say this was our vacation photo – and I could not imagine a better way to enjoy the view of the sunset, doing what brought us together and what we love – fishing!
-Rebecca
Hi, everyone! My name is Rebecca, and I just love to write and to fish! I'm currently residing in New York working at an office and with my free time I always give in to my passions blogging and fishing my most favorite things! Find her website ThatFishing and also follow her on twitter at @Rebecca_lilyAG