One of the main reasons I love the sunset and started Sunset Sunday is that the moment is universally celebrated as the sun sets daily around the world.  I've witnessed and shared many including many Costa Rica sunsets.  I also know as my community in the Florida Keys digs out from a massive Hurricane, they too happen all over the world. Jason shares a sunset moment after Hurricane Nate affected his new home in Canton of Dota, Costa Rica. 
Hurricane Nate affected plenty of people in Costa Rica. Luckily it didn't directly hit the country but it was a close call and the storm caused a lot of damage. One of the areas most affected was the Canton of Dota in the mountains of Costa Rica.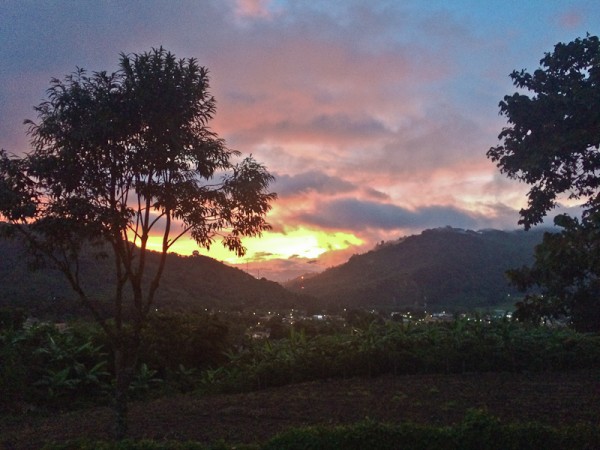 The sunset photographed from Santa Maria de Dota at a friend's house after they opened their doors and took us in after we were left without electricity. My wonderful girlfriend had just traded her house for a half build home that we had been living in with no windows or doors and the internet company was taking their sweet time. Our friends came to the rescue and offered to take us in and this picture was taken from their front porch.
The family farm of my girlfriend got hit pretty badly when a mudslide caused the river to block, eventually the river busted out causing a huge title wave that took out the barn and nearly reached the worker and my girlfriend dad's house. There was a few days of not knowing if everyone was ok, we thought we had lost some goats for sure. Luckily everyone survived this close call and it was sure nice to have a warm home and loving friends take us in so we could catch up on some missed work.
Everyone was not so lucky in Costa Rica, and some lost their life. The moment made me reflect and also send prayers. A time like this really makes you appreciate your friends, family and beautiful Costa Rican sunset. PURA VIDA!
-Jason
Jason Mueller is an expat living in Costa Rica and loving the "pura vida" lifestyle. His company A-1 Auto Transport allows him to work at home in Costa Rica. He enjoys the outdoors, farming and surfing on his free time. Find him on twitter through @jacoropes