I contacted Kevin, when I noticed he was planning to photograph a sunset (and sunrise)  in every National Park.  He agreed to share his moment and image of a sunset from the Saguaro National Park. He talks of his project and moment from Arizona here: 
Beginning a large personal photo project requires a bit of short term thinking. Just start. That's how I began my plan to capture a sunrise and sunset photo in 59 National Parks.
In January, I headed to the relative warmth of the Southwest. After 2 nights in the Grand Canyon I made my way to visit Saguaro National Park. Honestly, I didn't have high hopes for this park. What I discovered was much more than a pass through park and was impressed with  150 year old saguaro cactus standing 50 feet high in the desert with mountains in the distance. One of those was Mt Lemmon, high enough to contain a ski area at the top.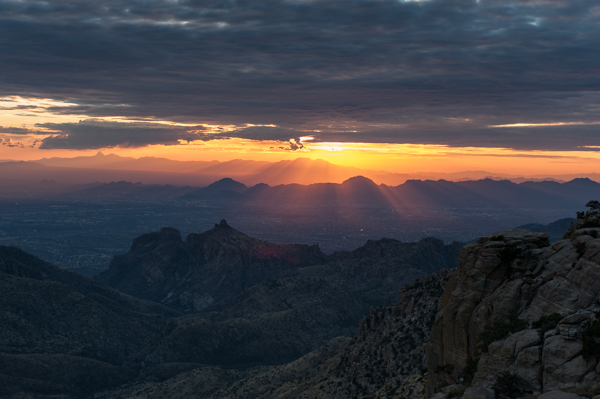 After exploring the area, halfway down I came across this sunset. As someone who tries to not miss a sunset, this was one of the top ones I've witnessed. So far I've been able to experience some incredible sunrises and sunsets (and wildlife).
Working in an office for the last few years, I decided there as more to the world than a cubicle and I wanted to experience it. The adventure continues on ….
I made that decision too Kevin – stay adventurous sir and thanks for sharing.
Kevin has given up the cubicle to go after his dream of photographing a sunrise and sunset in the 59 national parks of America, with a photo book as the final result. Talk of travels, musings and images can be found on kevinvanemburgh.com/  You can also find him on Twitter @kvanemburgh.