Manuel Antonio, a beach town on the tourist trail largely because of its National Park, is a perfect location to see the natural beauty and colorful wildlife that makes Costa Rica famous. I also discovered its beach,  a perfect place to experience a Costa Rican sunset, is a great place to surf too.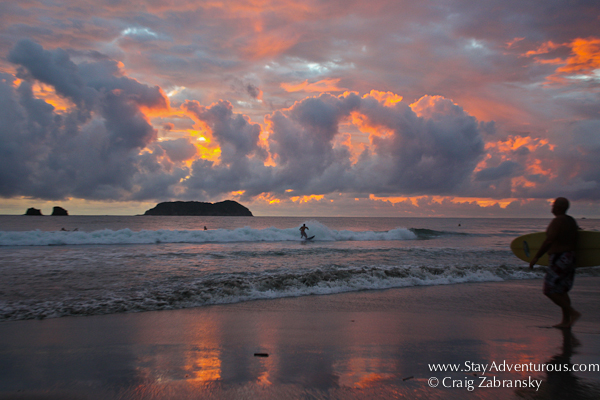 When staying in Manuel Antonio the hotels are located further up the mountainside (not in or too near the National Park). From there visitors have the option to watch the sunset from a higher vantage point and enjoy a few sunset cocktails with "buen vistas." But I opted to return to the beach itself. It was a Sunday, a popular beach day in Costa Rica, and I wanted to watch the sunset with the locals from the small town. I desired a shared sunset experience.
When I arrived the beach was relatively crowded, but my first stop was the local bodega for a cerveza to bring along with me on the sand. And although I'd enjoy my beer and the sunset, I noticed all the surfers enjoying the waves. I remembered when I surfed at sunset in Jaco years ago. Then my mind drifted to the transformative sunset from Tamarindo that helped push Stay Adventurous forward. Costa Rica was a special place for me, but then I decided to refocus on the majesty of this moment; to enjoy this sunset. I decided to create new a sunset memory and appreciated its magic. Happy Sunset Sunday.
Sunset Mindset
Watching a sunset with the locals is always a good idea, but what I loved even more was the opportunity to watch people surf at sunset. I placed this sunset in Sunset Sunday Calendar because I captured surfers – surfing at sunset. I always say do what you love in life and I love to surf. And surfing at sunset – that's really do what I love.
Order the 2015 Sunset Sunday Calendar
Stay adventurous, Craig
My trip to Costa Rica was part of the "Gift of Happiness" tour I participated in while working with the Costa Rica Tourism Board. As always, my opinions and travel photography are my own.