If Costa Rica and the Pura Vida way of life is on your travel list, make sure your visit includes time in the Osa Penninsula. On my first trip, to Costa Rica  (my travel sabbatical) I didn't get a chance to visit this remote spot teeming with wildlife, but on my most recent trip I found myself spending three days at the El Remanso Lodge and its private reserve adjacent to Corcovado National Park.
I spotted loads of wildlife including the beautiful Scarlet Macaw, yet my most lasting memory, the beach. Definitely one of the (if not the) best beaches I've had the pleasure to visit and spend the day.
Access the beach via the trail head at the lodge which takes roughly 20 minutes down (definitely longer on the way up), but it is SO worth every step. After your first footfall on the dark volcanic sand and you take in views of no one (or nothing) for miles – you'll be in love with this virgin beach too. Take a look.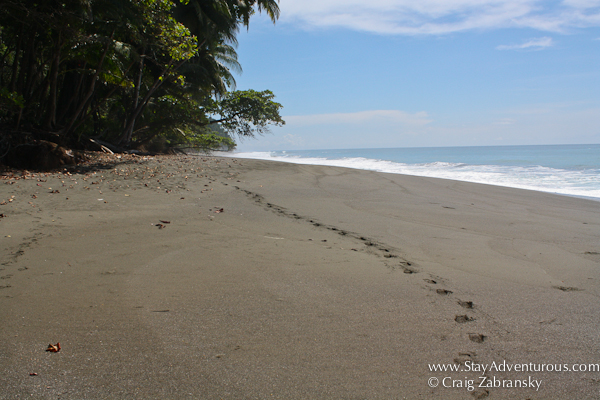 Where is the Osa Penninsula?
Well, it is in the southwest corner of Costa Rica. Yes, that is the sunset side (sunset from the Osa Peninsula), close to the Panama border.
Why Visit the Osa Penninsula?
There are places and moments during travel that you never forget. Times when you connect with something bigger than a place, but truly connect with earth. Whether its the primary forest, the biodiversity, or the pristine volcanic sand beaches, the Osa Peninsula in Costa Rica is that type of place.
Stay adventurous, Craig
Special thanks to Visit Costa Rica and my invite through the Gift of Happiness project. I was quite happy here.  Also, a special thanks to Francesca of The Working Mom's Travels for providing the map photo.