I love to zip-line. And when asked, I thought I'd always select a canopy adventure (zip-line) over ATV. Then one afternoon, at Huana Coa, an adventure tour operator, outside of Mazatlan Mexico, I surprised myself.
Huana Coa Canopy Adventure
Huana Coa, an adventure outfit located in the Sierra Madre mountains is forty-five minutes from the resorts of Mazatlan. The tour company currently offers canopy tours, ATV, and horseback riding with expansion plans for more.
Huana Coa offers combo packages to combine adventures but with my tight schedule on my press tour I needed to select one. I shocked even myself and selected ATV.  Already a veteran of the canopy tour, one of the best I had experienced made it a difficult decision, but something inside told me, "try something new." I listened.
Mazatlan ATV rides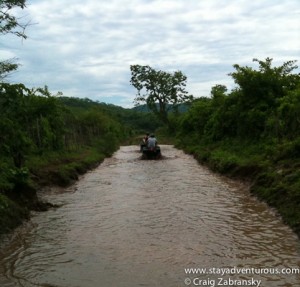 I am no ATV expert, in fact my experience is rather limited. And with the ride slated to be hours, not minutes I wondered if I might get bored? Would I have fun? Did I make the right selection?
ATV translates to 'all terrain vehicle,' and nearly all the terrains appeared on the course. We rode trails, crossed streams and pools of water submerging half the vehicle, cruised across sandy river banks, navigated through tropical jungle and even entered the streets of a local village.
Yes, we rumbled into the small town of Noria and stopped at a local leather shop, a talabarteria. We browsed customized products. Then we continued and climbed up the steep street to the local church.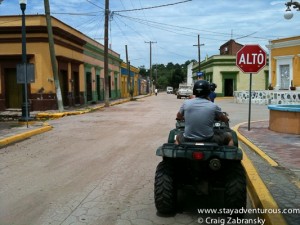 A small breeze delighted as the group dismounted and removed our bandana, goggles and German modeled helmets for the second time. Before entering the church I turned to face the distant, Sierra Madre Mountains. All green; such a vibrant green.
Then it became time to return. So after church and a quick prayer I was ready to test my ATV and its top speed. It moves.
stay adventurous, Craig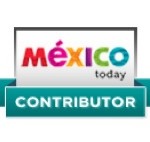 Also, this post is part of the Mexico Today program. I am being compensated for my work in creating content as a Contributor and Ambassador for the México Today Program.  All stories, opinions and passion for all things México shared in my blog are completely my own. Viva Mexico!
We Visit Mexico provided passage to Mazatlan as part of a social media/blogger trip to explore the destination of Mazatlán.