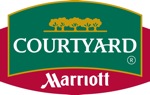 I started to sign-off my emails with "stay adventurous" when I was working as global management consultant. I had selected that profession because it afforded me the opportunity to travel and work in the world's most dynamic cities. With those adventures, I spent many, many nights in hotels.
After ten years I knew hotel brands, developed favorites, and became a loyalty member for perks. One brand, the Courtyard by Marriott offered a reassuring tag-line at the time, " designed by business travelers for business travelers."  Being a business traveler, I often chose to stay there.
Now the Courtyard by Marriott brand is changing, improving and to raise awareness, they are offering YOU a chance for you to win 2 free nights anywhere in the Continental US (the lower 48).
What are the changes to the Courtyard by Marriott? 
The lobby. A more  modern atmosphere is emerging and providing more space to relax and unwind. Here, travelers can congregate and converse. It's social. Also, guests will have more laptop friendly stations, loads of outlets and a giant touchscreen TV. The flat screen will enable guests to look up weather, news, and local attractions to help them plan their stay whether for business or pleasure.
A Bistro. A new bistro serving fast casual fare provides an opportunity to obtain a made-to-order snack or meal.
I enjoyed all of  these upgrades when I stayed in a newly remodeled Courtyard earlier this year.
Where else can I see the changes?
The renovation is already in progress at many Courtyards, but if you want to sample the changes from the road, you can also view the lobby layouts in the Baltimore, Houston, and Phoenix airports. The exhibits will be open through December 16th.
Alternatively, you can check out the Courtyard by Marriott travel site.
Ok, So how can I win two nights at the Courtyard by Marriott?
Simple. Do two things to be eligible:
1) Just enter a comment below and list what you love and /or look for in a hotel lobby. Any hotel lobby.
2) And also, "like" Stay Adventurous on Facebook.
That's Easy, How will I know if I've won?
The one winner will be selected at 3 pm EST on November 21st using the website www.random.org. Then he or she will be notified through Facebook.
Good Luck & Stay adventurous,
Craig
This contest is sponsored by Courtyard by Marriott through Soho Square PR.  The winner will receive 2 free nights at a Courtyard by Marriott in the Continental United States. On November 21st, I will contact the winner via email with instructions and announce it on my Facebook page. Additionally, for assisting Marriott and Soho Square, I will receive a complimentary stay and chose the Florida Keys Courtyard by Marriott in February.