After a few very busy days in Sinaloa, specifically Mazatlán I suddenly realized I had yet to take in a sunset. And it's on the Pacific coast of Mexico too. But then, perhaps aided by the pearl of wisdom found in a few Oysters, I  decided to not find the time, but make the time to watch one. I decided to create a moment and witness one of my favorite times of the day.
The Balcony View at the Emerald Bay
No more chasing another story or writing one. No more tweeting my thoughts. I put down my pen, shut my lap top and decided to enjoy a moment on my balcony at the Pueblo Bonito Emerald Bay. The luxury resort located in Nuevo Mazatlán, one of the three main neighborhoods for tourists in the city, provides a true retreat from the everyday and a chance to watch day turn to night. Although I enjoy being in the action at times, the action the Golden Zone might provide, I definitely enjoyed some time away. Time to relax, time to pause,  time to reflect. Some time to watch the sunset.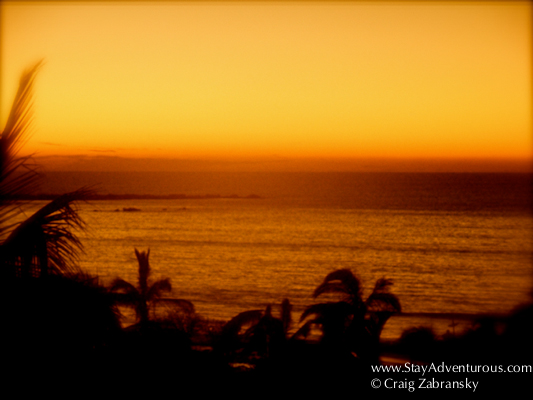 I can recall moment, not because the sky displayed the most spectacular colors or because I witnessed a green flash. I didn't capture the perfect picture either. Nope, it was simply because it was a shared experience. I realized someone else, somewhere, was doing the exact same thing. Somewhere, someone was watching the sunset too. I felt connected.
I hope this Sunday (on a special, emotional weekend here in New York City) you do too. Happy Sunset Sunday.
stay adventurous, Craig
Day 8 of 20 day Mexico Bicentennial Tribute
I'd also like to thank the Mazatlan Hotel Association for providing my stay.