The Sunset.
That word alone makes us smile. We are warmed by a memory; we recall a time, a place, a moment.
What is Sunset Sunday?
The daily descent delights differently, but is universally positive. The sunset remains one of the most celebrated moments of the day. For me, it surprises, seduces, and slows.  And I plan to describe how and why each and every week on Sunday in the Special Sunset Sunday Series by selecting an image and writing a memory of that magic.
And to start, I'll leave you with one of my favorites from my time in Thailand, the land of smiles itself.
Kata Beach Sunset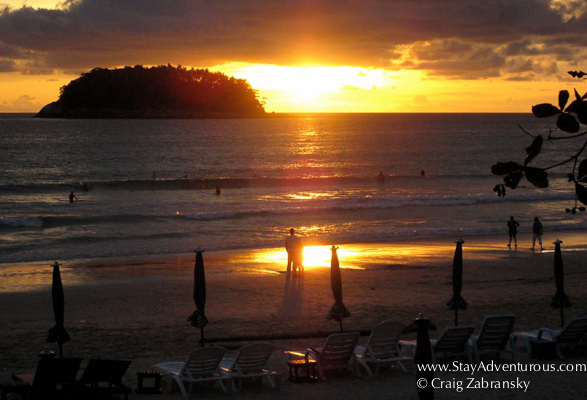 Just fresh from a surf session and enjoying the local Singha beer, I watched the day end. From the sands of Kata Beach, Phuket, Thailand in June of 2008, I sat and realized as the day ended here it was only beginning from where I lived in New York. It was a good day too.
And as it dipped below the clouds, it's radiance and beams seemed to warm the water, the beach and the hearts of all who witnessed the magic of the moment.
Stay adventurous, Craig