Honolulu's reputation for being able to effortlessly deliver a relaxing experience to its visitors certainly precedes it; with the slow rhythm of the waves crashing softly on the golden sands as an ever-present soundtrack, it's may be impossible to not shed a bit of that lingering stress. While experiencing the natural beauty of the Waikiki area is one way of doing that, taking to the streets when the sun goes down and taking in a tropical evening never fails either.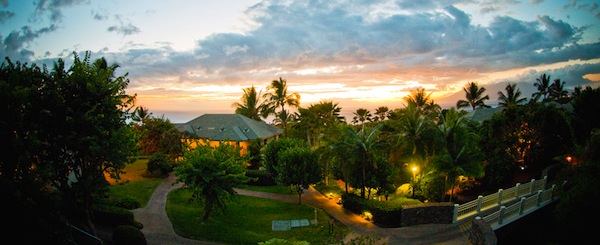 With plenty of hotels in Waikiki offering a close proximity to a number of unique events, spending the night out, watching the sunset, and dancing until the early hours of the morning can be an easily achieved, delightful complement to your day in the water. With efficiency in mind, here are several suggestions for ways to put an island spin on your night on the town!
Work Up An Appetite
You've showered and are feeling fresh, but aren't quite ready to sit down for a meal. Going for a walk along Waikiki Beach is a perfect way to get back outside, breathe in the sea air, and immerse yourself in the vibrancy of the area. With the lights of the city as your backdrop, walking along the water will only serve to soothe and relax. Or instead, take a spin through the strip, where you'll be greeted by a plethora of street performers and people.
A PuPu Tour
PuPus are the Hawaiian equivalent to tapas or dim sum. These small plates of traditional recipes make for a very social way to pop in and out of some the city's best restaurants. From seafood dishes to vegetarian treats, you can sample a large variety of Polynesian, Japanese, and other cuisines. Some places, like Uncle Bo's, offer fusion dishes as well, ensuring that you're able to try something new and exciting! There are many other hotels and restaurants that partake in this island tradition, so make the most of them! Couple your selections with a tropical cocktail to truly do the PuPu tour in style.
Luau Splendor
If you've been interested in enjoy some Hawaiian cuisine, seeing traditional dance, or listening to the sweet lull of a ukelele, why not take care of your island bucket list in one go and head to a Luau? The Royal Hawaiian Luau on Waikiki Beach is a favorite, but ask around–there are plenty of options! You may choose to go for a ride up the leeward side of the island for an evening where you'll be wrapped in the famous Aloha spirit beneath the palm trees!

The first photo is is courtesy of Aqua Resorts and the second photo is from a Hawaiian resident and fellow world traveler Marijane Carlos or Emjay.