Along the Delaware river, not to far from the spot of the famed George Washington crossing that appears on the New Jersey State Quarter, a bridge connects two towns and two states.
The towns are Lambertville and New Hope, the states New Jersey and Pennsylvania and the area's history dates back to the founding of the United States. Years ago I had the opportunity to spend some time in this part of the country consulting for a bank. I thought I was being assigned to the middle of no where, New Jersey (no offense), but I definitely discovered a gem. A true American gem.
Antique shops, colonial style Inns, restaurants, art galleries, and riverside views offered a chance to unwind and relax. It offered a perfect remedy after a frustrating day at the office too. Yet, perhaps my favorite moments, memories were the walks along the bridge. Those walks enabled me to view the changing colors of the sky reflected on the river at sunset.
There I stood between two states and pondered how different my crossing was than the men who took to the cause to create a free nation 235 years ago. I am so thankful for their bravery and service. And I am always thankful to see another splendid sunset. Happy Sunset Sunday.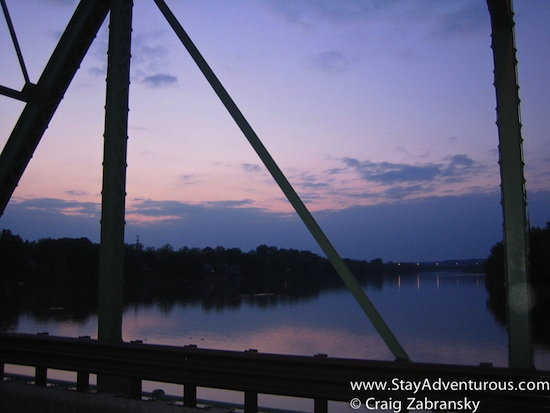 stay adventurous, Craig